Sunset Cinema
SUNSET CINEMA
in collaboration with
Apolonija Sustersics
Trans(ient) City
Luxembourg
2007
Sunset Cinema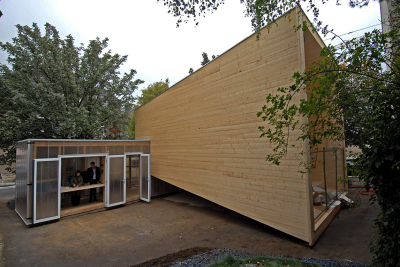 Sunset Cinema
Sunset Cinema
The realization of a remake of Robert
Smithson's 'Cinema Cavern' seen through our
present perspective would have been a great project
if we had been invited to use the caves that
are situated beneath the City of Luxembourg for
a temporary cinema.
But the site for the cinema is a small square
in the shape of a quarter circle in a
neighbourhood called Bonnevoie. Nevertheless,
it is not a coincidence that we are caught by
the simplicity of Smithson's Cinema Cavern, for
which he took a site as it is given, and worked
with the parameters and limits that create the
potential to get the maximum from an existing
situation.
In fact, the square in Bonnevoie is - because of
this particular shape - very well suited for a
cinema. Everything is already there: the
projection wall, the slightly curved backside,
and the natural border with the street, formed
by the trees. With Apolonija Sustersics we
developed a cinema that is made for and
thinking from the site.
Sunset Cinema consists of three elements.
Podium/tribune, screen and box with minimum
location Sunset Cinema
location before
Sunset Cinema
logistics. The projection building takes the form of the light beam as a leading principle.
The floor thus becomes a slope that serves as the basis for the seatings. The wall onto which the films are projected forms the screen. This wall is an existing wall and part of the neighbouring building. Between the projection building and the screen a small space is left open; also people outside the building can follow the screening without necessarily being inside. The box with logistics offers space for bar, storage and meeting place.
Sunset Cinema is run by the Luxemburg based film club
Filmreakter
. The film program starts from sunset onwards; hence its name. When there is no screening, Sunset Cinema will create - by it presence - an urban space 'infested with promise and expectation'. The square around Sunset Cinema allows the already existing space to come alive, as it can function as an open-air terrace.
Filmreakter shows new and old material from their members, Open Screen programs and invites different generations of Luxemburg filmmakers
to program an evening. Next to that we invited several initiatives outside Luxembourg to program a night.
Sunset Cinema not only wants to generate a platform for producers from Luxemburg, it also wants be an activator for exchange, a possibility to contribute, make, and show.
Sunset Cinema