The Smell of Success
Smell of Success
a project for
Zuidas, Amsterdam
2008
The Smell of Success
What is the public sphere? What are the
ambitions of the Zuidas? And is it possible to
trace some aspects of these ambitions in and
around the Zuidas?
During a research-period in the Zuidas, Bik van
der Pol questioned the existence of the public
realm in the Zuidas, and concluded there is
none. They searched for a public realm as a
diversity of spaces where people meet, freely
discuss and articulate societal issues and
conflicts, and through that discussion
influence political action. They searched for a
discursive space, where the public sphere can
be seen as 'a theatre in which political
participation is enacted', a realm in which
public opinion can be formed.
This kind of public pace (as discursice space,
where a community can be formed), does not
exist outside the bars and restaurants where
people meet after working hours to take a few
drinks before they travel home. What is
supposed to be public space is space for
transportation: of goods, people, cars, trains.
The ambitions underlying the Zuidas are ruled
merely by the hegemonic ideology the desire
for the miraculous, perhaps of becoming a
major financial centre, with La Défense and La
Rive Gauche in Paris, Potsdamer Platz in Berlin
and Docklands in London as its premium
examples.
Can ambitions and desires then maybe somehow
traced in the public sphere? Is it possible to
articulate and imagine the success, the luck -
the public sphere of the Zuidas wants to
breath? In other words, can the smell of
success of the Zuidas including its
architectural and physical structures, its
function, its daily uses be located and
defined through the public sphere?
These questions form the guiding principle to
the possibility and impossibility of defining
the public space, the influence of the
imagination in that public space, mapping the
Zuidas through a months long search for the
ultimate and miraculous symbol of luck,
premonition of success: the four-leaf clover
(of which 41 were found around the Zuidas), and
a study into the nature and smell of success,
in collaboration with a perfume specialist, -
to be continued.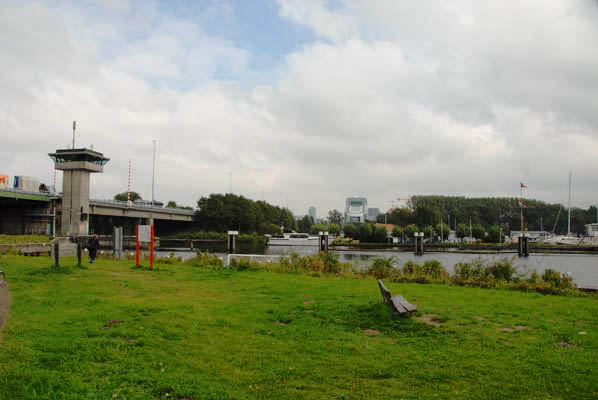 looking for four-leave clover
41 four-leave clover framed
The Smell of Success